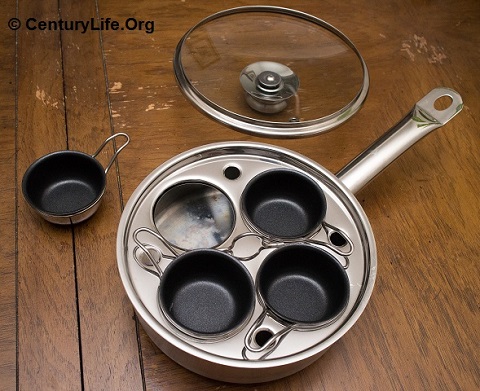 THE COMPANY
Demeyere (pronounced Deh-MAI-reh) was a Belgian company founded in 1908 as a family business. 100 years later, the family sold the company to Henckels/Zwilling. Demeyere is an offbeat cookware company. Imagine an uncle who loves cooking. Imagine he wins the lottery and decides to build the ultimate set of cookware for himself, regardless of cost, such that he will never even think of buying any more cookware afterwards. Imagine that he loves the results so much that he shares them with the world. That's pretty much Demeyere in a nutshell: superb but expensive. That said, my kitchen has quite a lot of Demeyere in it; it has never failed to impress.
THE PRODUCTS BEING REVIEWED
The Demeyere 1.5-quart 4-Cup Egg Cooker/Poacher
is a two-in-one sauce pan with 4-egg poacher insert. Use it as a saucepan OR as an egg poacher–heck you can even bake in it (up to 350F). Demeyere also calls this a "Gourmet Pan," but it's the same product with a different handle.
By the way, poaching just means cooking by simmering in liquid (water). In practice this setup gives you a cross between poached and steamed eggs, but that shouldn't stop you from enjoying the delicious results no matter what you call it.
Key features:
– 1.4 liter (1.48 quart) capacity
– 18 cm top diameter (7.1 inches); 16 mm bottom diameter (6.3 inches)
– 4 mm (0.17 inch) thick aluminum disc base
– Glass lid with steam vent and steel handle
– Welded 18/10 stay-cool stainless steel sauce pan handle
– Rivetless handle design won't trap food particles
– Stainless steel 18/10 interior surface, magnetic stainless steel bottom surface (for induction compatibility)
– 4 nonstick egg cup inserts with individual handles, plus a stainless steel lifter for quickly lifting all four inserts at the same time
– 2-year warranty
The sauce pan/egg poachers are made in Indonesia and are part of Demeyere's "Resto" line
of affordable specialty cookware that isn't made in Belgium.